Bullet Mold (Configure your mold type, designs, and number of cavities)
Molds are available in iron, aluminum, and brass. They are CNC lathe bored to any design to your specifications.
Multi-cavitity molds can be configured to cast a different design from each cavity.
Made to fit Lee six cavity handles.
Mold prices vary by configuration.
Begin configuring your mold to view its price and add it to your cart.
Price & Purchase a Mold
Aluminum Top Punch
Flat-faced top punches work very well for sizing flat-faced bullets. Will fit any RCBS/Lyman style sizer. Made of aluminum and available in a variety of sizes.
Blank Mold Block (No Cavities)
Mold blocks with no cavities are available for Magma and Ballisti-Cast style machines. Order these blocks if you will be machining cavities yourself.
Magma molds do not include a sprue plate or mounting hardware. These items are available at Magma Engineering.
Ballisti-Cast style molds do not include a sprue plate or mounting hardware. Mounting hardware can be purchased separately below. Purchase sprue plates from ACE at AmericanCastingEquipment.com
***If you want a blank hand casting block, please contact us by email to specify the mold type and number of intended cavities.
Ballisti-Cast Style Mold Hardware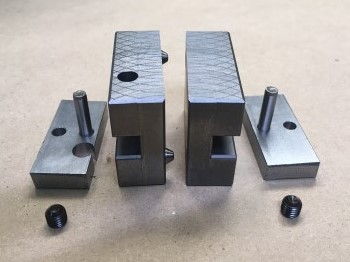 This kit is only for Ballisti-Cast style casting machine molds.
This hardware kit is also available as an add-on when configuring and ordering your Ballisti-Cast style mold.
We now offer this hardware as a separate option, as many customers transfer the hardware from one mold to another as they set up their casting machines.
Hand Casting Kit for Magma Type Molds
A special sprue plate that attaches to a Magma style casting machine mold. This allows the mold to be used with handles for hand casting.
If you want your mold drilled and tapped to accept mold handles, please indicate this in the special notes as you order the mold.
Please Note: This is not needed for regular mold blocks. It is useful only on Magma machine molds and only when casting by hand.